Introducing the newest member to the Public House UK team; Chloe Sinclair, and to kick things off, she has this amazing exclusive interview with SCUBA…
Scuba vs. RA Top 100: "Don't worry about being popular, play music you believe in"
The annual Resident Advisor polls are open and artists across the board are coming out to thank fans for support and encourage them to vote for their act. Last year's winner Dixon has already been tipped to take the top spot for the third year in a row, while other established names and new additions to the scene battle it out for places in the Top 100.
Followers of techno DJ Scuba on Instagram will have seen a rather different approach – a tablet open on the poll site complete with what appears to be a few sizable lines of cocaine and a neatly rolled note. A bold move, as XOYO has just announced the DJ as the first quarter resident of 2016. Spanning 12 weeks, Scuba will be appearing alongside massive acts such as Chris Liebing, Len Faki and Nina Kraviz.
I caught up with Scuba to get his opinion on drugs, ranking artists, and how this creates division in dance music.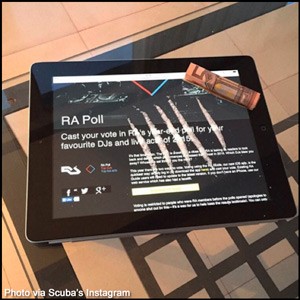 Chloe: What were you trying to show by posting this photo? Was there a statement intended?
Scuba: The period around the RA poll gets worse every year. The DJs in with a chance of polling go into a frenzy of vote soliciting, and a lot of the ones who have no chance of making it snipe at them from the sidelines. It's a pretty pathetic spectacle that reflects badly on everyone involved. The Instagram post was a follow up to a tweet I posted offering people a free bump of ketamine in return for a vote. It was intended as a comment on how silly and hypocritical it all is. DJs spend the entire year mostly behaving pretty badly and getting paid a fortune to do a pretty easy job, and then each November they all write heartfelt pleas to their fans thanking them for their support in an attempt to get a good placing in the poll and hike their fees for next year. Fuck that shit.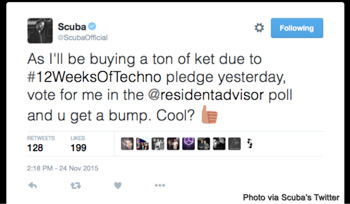 Chloe: Do you think there is a better way of conducting this kind of poll? A lot of fans, particularly newcomers to dance music, rely on lists like this to decide where to spend their time and money.
Scuba: I think there's enough coverage in the editorial of RA and many other sites for people to learn about new music without having to resort to a ranking system which pits people against each other and creates division in a part of the music scene that has always been about unity and understanding… at least in theory.
Chloe: In regards to drugs – do you think DJs have a responsibility to talk about safety?
Scuba: I'm on the record as encouraging people to take drugs. I certainly wouldn't say all drugs are positive, but I'm in favour of experimentation and what a person gets out of any kind of psychoactive experience is an entirely subjective thing.
Yes I think safety is a key issue with drugs, and DJs have as much of a responsibility as anyone else with a public platform to make sure people keep safe. The same is also true with alcohol and sex. There's a big difference between encouraging people to experiment with drugs and glamourising excessive alcohol consumption. There are positive experiences to be had from every drug, but you have to be careful – but that's such an obvious point it should really go without saying.
Chloe: The culture around the RA poll does seem to show a diversion from the values of the underground music scene. What advice would you give to an artist just starting out who sees a high ranking in one of these polls as an ultimate goal?
Scuba: This is why it's completely unhelpful – music should not be a popularity contest. Of course everyone wants to build their audience and there's nothing wrong with that, but when people start basing their careers around an annual public vote then that's inevitably going to start distorting behaviour away from music and towards things which should be peripheral at the very most.
Ultimately the poll is about money – DJs increasing their fees and RA driving people to their site.
For someone starting out I would say this – if you want to make money don't go into music, there are much easier ways to get rich. If you just want to make tunes or play the records you like, then just do that – don't worry about being popular because the danger is you'll end up making and playing music you don't believe in.
The RA Poll is open now at http://www.residentadvisor.net/poll.aspx
Catch Scuba at XOYO from 9th January 2016. See the full lineup at http://12weeksoftechno.com
- Chloe Sinclair, Public House UK.